Pro Futuris: incubator for the futures of democracy
What is Pro Futuris committed to?
Pro Futuris exists to strengthen and further develop Switzerland's democratic culture. Our aim is to be in a position to work out joint solutions to common challenges as a democratic society, and to thereby overcome the obstacles of the present. We want to contribute to an open, effective democracy that has the ability to learn.
We are committed to:
Better participation: it should be possible for more people to be part of the democratic decision-making process and contribute their perspectives and knowledge.
More respect: people with different opinions should be able to take part in a respectful dialogue.
More courage and foresight: as a democracy, we want to think long-term and tell bold stories about our future.
Why is Pro Futuris a 'think + do tank'?
We analyse where the problems are in our democracy. We tackle these to develop tangible solutions for better forms of dialogue, debate, participation, joint decision-making and forward-looking narratives.
Our aim is to work with other organisations to find out which democratic innovations Switzerland requires and how we can implement them effectively.
We share our findings openly so that as many other stakeholders as possible can benefit from the knowledge obtained. We use the discussion of specific projects to launch a broader public debate on democratic policy challenges. Pro Futuris projects are selected strategic prototypes with which we want to create as many insights as possible.
With the'Let's talk' dialogue series, we are currently testing how we can bring people with opposing opinions together to hold constructive discussions. At the same time, we are planning a deliberative citizens' council that will open up a new form of democratic participation for young people. Pro Futuris works with established and new stakeholders to design and implement these prototypes.
How does the Pro Futuris process work?
Sensemaking: based on quantitative and qualitative analyses, we work out which socio-political challenges we can tackle and which levers we might set in motion to solve them.
Prototyping: we test how and with whom we can design and implement a new democratic infrastructure, usually in several loops. We have our prototypes evaluated scientifically as we want to learn what works and how (or what does not work).
Scaling: we continue to develop tried-and-tested prototypes and pass them on to relevant social stakeholders for long-term implementation.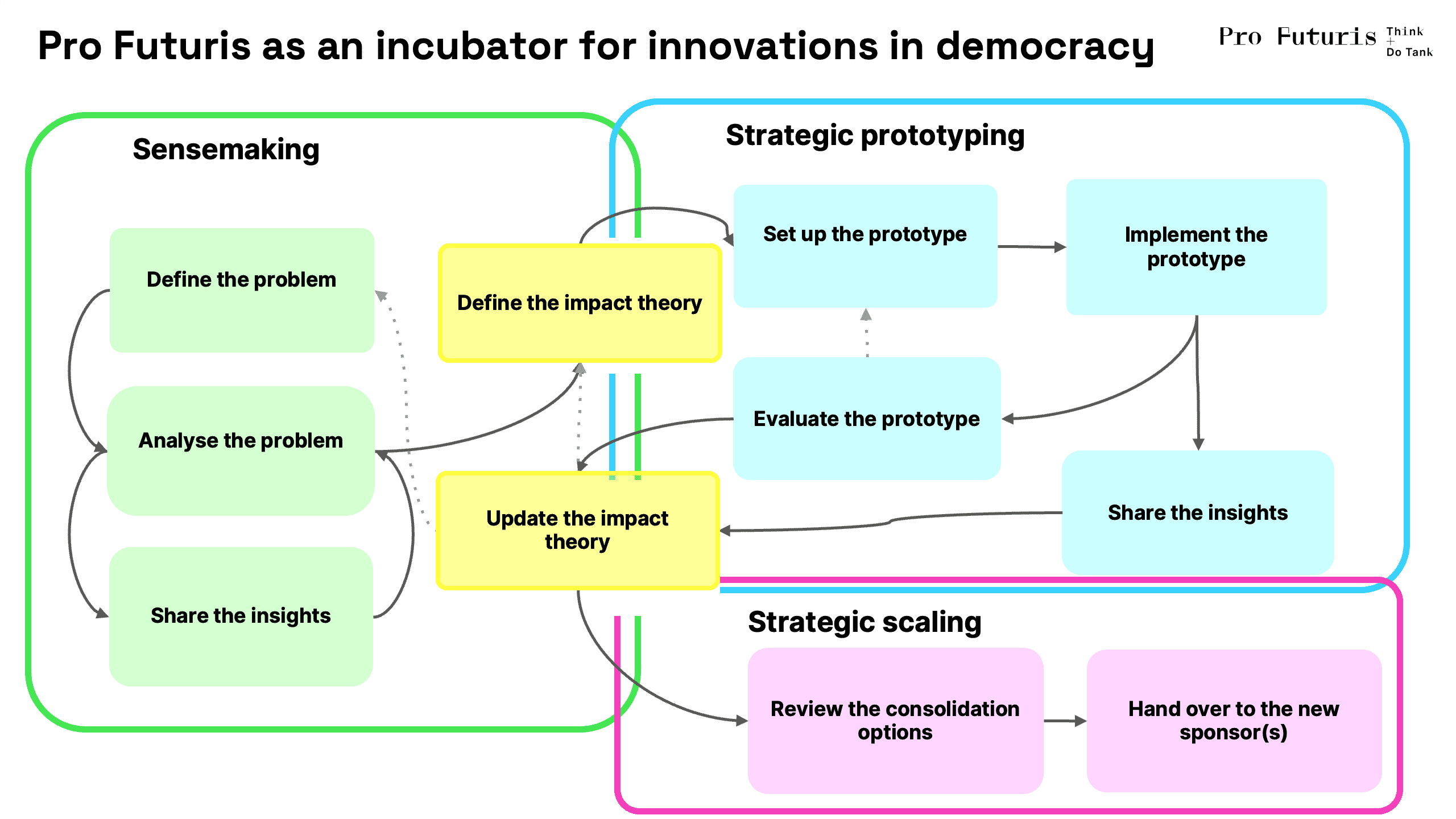 We ask ourselves these questions in three stages:
Phase 1: Sensemaking
Problem definition: which social or democratic political challenge are we tackling? How does the challenge manifest itself and for whom?
Hypotheses: what options do we believe will overcome the challenge? What do we want to improve and for whom?
Systemic analysis: how do we gain a better understanding of the challenge through qualitative and quantitative research?
Thinking in the open: what can we learn with and from experts and practitioners if we publicly share our hypotheses and findings and put them up for discussion?
Phase 2: Strategic prototyping
Implementation, partnerships and risks: which elements of the prototype are successful and how? Who do we require as partners to put them into practice and when? What risks emerge during implementation? How can we manage them?
Mobilisation and communications strategy: how do we reach our target groups (and the representation required)? How can we provide the public with a picture of what is happening?
Impact: what do we learn about the impact and cost-benefit ratio of the prototype?
Scaling potential: to what extent is prototyping suitable for future expansion? Which organisations are interested in sponsorship to consolidate this?
Strategic alliances: which possible scaling partners (sponsorship for operational implementation) can we bring on board through experimenting?
Thinking in the open: how can we share our scientific and practical knowledge with organisations that are interested and with the public?
Phase 3: Scaling
Scaling: what steps need to be taken to scale the newly tested prototype and increase its impact? What requirements do we have to meet for successful scaling?
Sponsorship: how do we bring together organisations from civil society, media, politics, public administration and business with an interest in sponsorship to form an alliance for the long term? How does future sponsorship ensure that the project to be scaled will continue to develop in the future?
The SSCG and Pro Futuris: what role will the SSCG and Pro Futuris play in future sponsorship?
Thinking in the open: how do we keep alive the public debate regarding underlying challenges in the medium term? How do we adapt to change?